For many churches social media is a struggle.
Will you use it to…
Build relationships?
Inform people of events?
Connect with your community?
For some churches the answers comes naturally while others struggle.
If you're wrestling with the roll social should play in sharing with your church and community I have some suggestions for you.
These will help you capitalize on the best ways to get your message heard while keeping your effort on task and budget.
In 2014, Pew Research Center released a study outlining
74% of online adults use social networking
71% of online adults use Facebook
23% of online adults use Twitter
statistic from http://www.pewinternet.org/fact-sheets/social-networking-fact-sheet/
Numbers like that show incredible promise for online ministry potential. At the same time, the implications are huge because it means one thing…
Getting your message heard is a growing challenge
According to Facebook, "On average, there are 1,500 stories that could appear in a person's News Feed each time they log onto Facebook. For people with lots of friends and Page likes, as many as 15,000 potential stories could appear any time they log on." statistic from  https://www.facebook.com/business/news/Organic-Reach-on-Facebook
Facebook knows users would never sift through that volume of content so they rank posts based on interaction and response levels. The better the interaction the more users see the content in their feed. This results in a user seeing approximately 300 items in their News Feed instead of 1500.  statistic from  https://www.facebook.com/business/news/Organic-Reach-on-Facebook (include funnel graphic)
The ramifications are, most of your churches posts will only be seen by 3-6% of your followers.
This poses a significant problem when you want to build a thriving community.
Twitter has similar issues. According to the Twitter blog, "brands that tweet two to three times per day can typically reach an audience size that's equal to 30% of their follower base during a given week." statistic from https://blog.twitter.com/2014/introducing-organic-tweet-analytics 
While the reach percentage is better than Facebook it still isn't great. At its heart, Twitter functions best as a real time delivery system. It has been compared to watching 'live tv,' versus a DVR. If a person is online at the time you post, the content is seen. Tune out and it's easy to miss information.
So how can you use social media advertising in a budget friendly way?
Facebook
The growth of Facebook and changes to their business model means going forward, most churches will need to Pay to Play. While it's easy to complain and question why a 'free' service would make you 'pay' the reality is, Facebook is a business. For them to continue to exist they need income. With that income comes research and marketing tools. Those tools are the thing that makes our church outreach more effective than ever before.
There are 2 features to help with this…
Boost Post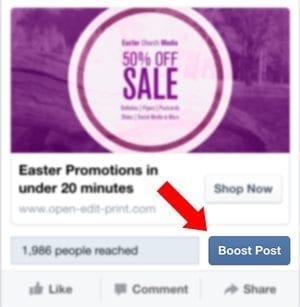 Create posts like you normal would and watch the reach (how many people interact with it)
Chose the posts that people interacted with the most and pay to boost them

Target your post to reach your church or community
Costs as little as $1 per day
Increases the likelihood of being seen by your fans and community
Power Editor  – Facebook Ad Creation Program
Pick a budget

Per day or per campaign options
Costs as little at $1–5 A Day
More effective reach for $30–40 Per Campaign

Create a delivery schedule

Length of campaign
Days of week for campaign
Time of day for campaign

Create an ad

Text
Image
Link to follow

Send it out
Track the results with Power Editor analytics
There is no other advertising medium that allows you to speak to your specific audience for so little money.
Twitter
Because of the nature of Twitter paying isn't the only option. You can start by making sure to…
Post multiple times a day to hit the 2-3 post minimum for 30% engagement
Use a scheduling service to free up your time
Hints:

Don't copy and paste the same tweet (retweets are allowed but duplicate posts are discouraged)
Address the same topic in multiple ways and post them throughout the day
Use hashtags for your posts

Interact with other people utilizing your hashtags

Use shortened links to send people to your website
Include images to increase engagement
If you come to the conclusion that reaching everyone in your target is the best way to go then check out…
Twitter Ads

Pick a campaign objective
Choose an existing tweet or create a new one
Target your audience
Schedule delivery
Pick a budget
Launch your campaign
Track your results with the ad dashboard
Overall, the cost for connecting with your audience through social media is incredibly low.
I encourage you to try a daily budget of $1-5 and see what type of difference it makes.
I'd like to know what kinds of results you have as you dive further into telling your story through social media. Let me know in the comments section below.