Let's face it, there is nothing glamorous about email.
For many,  it is a necessary evil that invades our space with info we'd rather ignore.
But, done well, email gives churches a way to tell their story in a user-friendly way that members are already engaged with.
The question is how do we do it well? What steps can we take to keep cost low and deliver a quality email people want to open and read?
We need to understand…
The Power of Email
Email is the communication medium of choice for several reasons.
low cost
ease of setup
its personal (goes to the user)
its part of our everyday lives
its transactional (people can interact with you)
email has nearly 3x as many user accounts as Facebook and Twitter combined (2.9 billion)  statistic from https://blog.kissmetrics.com/email-crushes-social-media/
A look at the total emails sent every day vs the number of social media posts its even more staggering.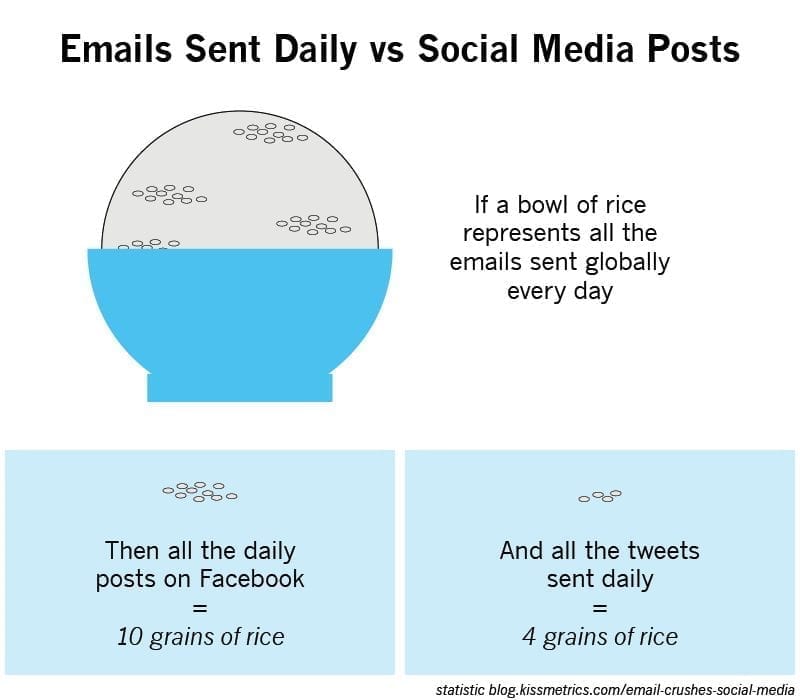 With reach far exceeding social media, email has the potential to be a powerful communication tool. If we know how to use it.
Unfortunately, email has some…
Challenges
Personal email plans, like the kind you get from Yahoo, MSN, or Google, are created to send messages to small groups of people. Try to send a large group message and you run into trouble.
Email providers track every message that passes through their systems. They don't read them, but they measure…
number of recipients
percentage of emails opened
number of links clicked
number of undeliverable emails (bad addresses, typos, etc.)
number of emails marked spam
Each of these areas has a point value assigned to it. Below a specified point value your email goes through. Hit the next level and your emails go into the junk mail folder. Exceed the final level and they label you a spammer and block your account.
If you've ever fought to get your account unblocked its not fun. My IT buddy has done it several times and its a long, ugly process.
Solutions
There are two options to help get around this.
Option 1: Church Email
Create a dedicated email address that is only used for church communications
Write your email
Format your content
Copy and paste names out of your contact list
Send the message to a small number of recipients, every 5-10 minutes, until your list is complete. (Every provider has different rules for number of emails and time between matching subject lines.)
Use a tracking service, like Sidekick, to make sure people are opening your emails ($10 a month)
Track and purge bad addresses from your contact list regularly
Pray you don't get banned
Option 2: Email Service
Import your email addresses
Pick a template
Write your email
Send your message
Let the service track

opens
reads
clicks
bad addresses

Watch your email analytics to know what is working and what's not
Contact tech support when you need help
Most likely, Option 1 is a slightly different angle on your current approach. Before you discount Option 2 take a look at the breakdown.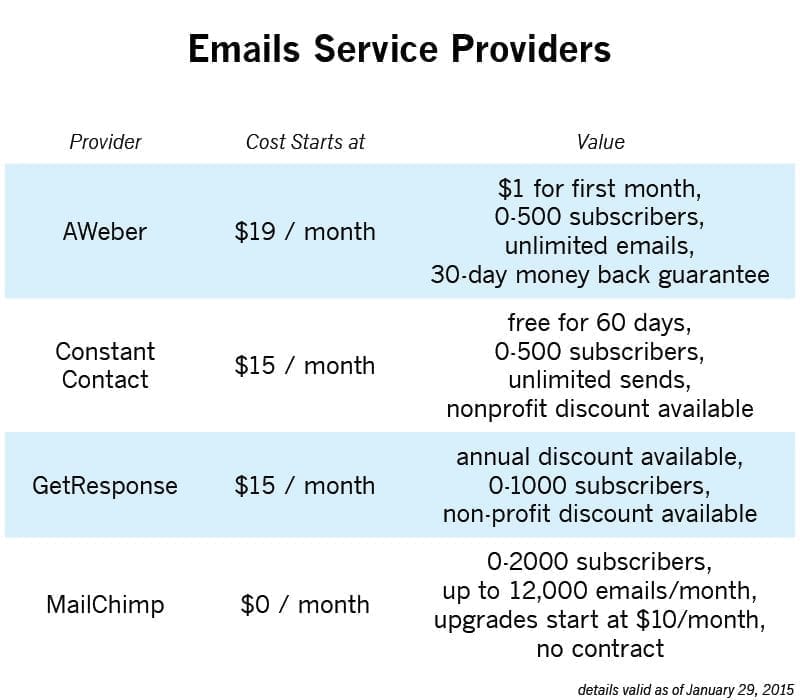 If you have fewer than 2000 email addresses in your list MailChimp is free. You get access to their basic tools and analytics with options to upgrade if you need extras. They take the headache out of Option 1 and keep your email from getting flagged. And, for the price, you can't beat it.
Email is the communication medium of choice. While I haven't addressed the importance of writing engaging content,  I hope this post helps you share your story in budget friendly ways and avoid the most common technical issues.
This post appeared first on ChurchTechToday.com