"PR is everything, and your church doesn't get to dismiss it, because you're already doing it whether it's part of your job description or not

."


J Dean, PR Matters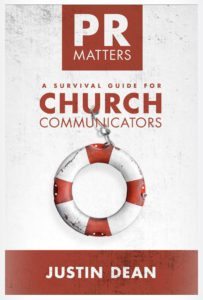 I'm in route to Atlanta for That Church Conference, and i
just
finished Justin Dean's new book, PR Matters: A Survival Guide for Church Communicators.
After 14+ years of church communication experience I can
confidently
say, I wish it had been available when I first started
.
Justin doesn't take the path of your typical church communication book, filling the pages with theory, little substance, and a hearty 'go save the world'
.
Instead, he sets out a plan for PR, outlining not
just
the case for it in the church, but a practical application of it. Giving the reader a foundation to stand on, with a plan to actually
implement
it. He's even included download links to speed up the process of implementing your own plan.
Written in a conversational style, I found myself 'hearing' Justin on every page. As if he was standing in front of me leading the conversation.
Pastoring, me along to better understand why PR is so important and the reasons you cant ignore it any longer
.
"I want to help you grow the platform God has given you, and help prepare you to protect and defend it so you aren't ever forced to give it up

."


J Dean, PR Matters
Whether you are new to church communications and trying to wrap your mind around your role. Or, you're a veteran and looking to sharpen your tools, I encourage you to pick up this book. Sit down, highlighter in hand, and read as if your ministry depends on it. Because, as Justin points out… it does.
"Aside from your pastor and the preaching of your church, this is the most critical piece of the mission -defending, promoting and distributing that message as far and wide as it can go, in the best possible way

."


J Dean, PR Matters
Don't just trust my word for it. Here's info from others about PR Matters.